Grief Counseling – What Is It and How Does It Help?
Grief is always hard, but for some people, it can be overwhelming. That's exactly why grief counseling or loss counseling exists. This type of psychotherapy helps people deal with the physical, social, emotional, cognitive, and spiritual responses to loss.
Does Grief Counseling Help?
People usually experience grief after a loved one dies, but there are cases when a life change such as a job loss, home foreclosure, or divorce can cause a similar feeling of loss.
Grief counseling can help these people find meaning in life and move through the stages of grief so that they can start the healing process. What a grief counselor does is studying the stages of grief and realizing how they can help people move through each stage of grief in a healthy way while mourning the loss of a loved one.
The aim of grief counseling is to be aware of the loss and accept it, recognize and deal with your trauma, talk freely about the person you lost, experience and express emotions, overcome guilt, cope with life changes after the loss, and build a support system. That's why this form of counseling can be extremely helpful for people dealing with some kind of loss.
Is Grief Counseling Covered by Insurance?
Medicaid and Medicare cover general mental health counseling, but not grief counseling, except for those who qualify for hospice care. This, however, is reserved for individuals with terminal medical conditions, including their families. So, loss counseling might be covered if it's provided by a hospice approved by Medicare. Mental health coverage is included in some private insurance plans, so those who are privately insured should consult their insurance company and their grief counselor to see if their coverage pays for grief counseling.
Where to Find a Grief Counselor?
There are many online platforms, such as GoodTherapy, which can help you find the right grief counselor for you.
You can search by counselor location, gender, specialization, and age group treated, or by the type of your loss. You can also look for a counselor closer to your home in hospitals, colleges and universities (if you're a student), churches, funeral homes, and local support groups.
The price of grief therapy varies. It can cost from $40 to $70 per week or $65 to $250 per session.
What Are the Stages of Grief and How Long Does Grieving Last?
The healthiest way to move forward after a loss is to let yourself work through the seven stages of grief. You should neither stay stuck in one stage nor move too quickly to another. There is a natural progression which will help you move into a better place.
According to Healthline, the stages of grief are:
Shock and denial
Pain and guilt
Anger and bargaining
Depression, reflection, and loneliness
The upward turn
Reconstruction and working through
Acceptance and hope
When it comes to the duration of grieving, it depends on the strength of the bond broken, states Harvard Health Publishing. Every person grieves differently, and although in some cases it can be lifelong, it does soften and change over time. It's influenced by a person's emotional style, the culture they are part of, and the nature of their support system. The important thing is to give yourself time as grief usually doesn't have a clear beginning, middle, and end.
What Is the Grief Recovering Method?
You might have heard about the Grief Recovering Method which is not an alternative treatment, therapy, or counseling. It's the only evidence-based program that allows you to work on your own recovery.
The 7-session step-by-step program can help you to complete any unfinished business created by a loss while letting you return to a full state of aliveness.
What to Say to a Grieving Client?
If you serve a client who has experienced a loss, it's important to provide the right support and say the right words to help them better understand their situation and continue to the decisions you need to help them make, recommends The Centre for the Grief Journey.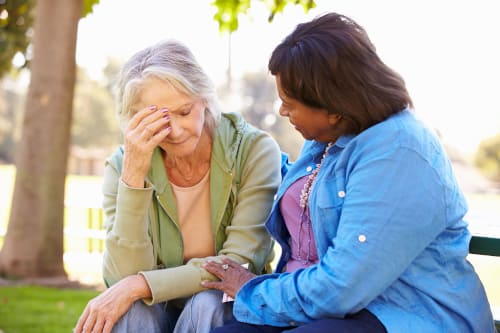 According to the grief expert Amy Florian, instead of saying "I'm sorry" like anyone else, you can offer a nice memory of the deceased one, or ask questions to let your client talk about them and how they feel. Listen to them and let them cry.
Don't cheer them up immediately, but tell them that it's ok. Call them from time to time just to check in and see how they feel instead of asking them to call you when they are ready. It's the human thing to do.
Grief vs. Mourning
There's a difference between grief and mourning, explains Pastoral Care Inc. The first one is what you think and feel inside when you experience a loss, including sadness, numbness, regret, and anger.
The latter is when you let your grief out and allow yourself to experience it. Mourning is crying, punching something, walking about the loss, or writing about it. Therefore, it's crucial that you move from grief to mourning, so that you can heal and move on with your life.
What Does Grief Do to Your Body and Mind?
Grief can affect your body and mind. According to WebMD, it increases inflammation which can aggravate an existing health problem or create a new one. It weakens your immune system and makes you prone to infection. It can raise your blood pressure and your risk of blood clots.
In severe cases, it can even lead to broken heart syndrome, which has the same symptoms as a heart attack. Some of the ways grief can affect your body include dry mouth, headaches, shortness of breath, chest pain, stomach pain, lack of appetite, nausea, and fatigue.
In fact, 2018 research from Rice University discovered that grief could cause inflammation or aggravate an already existing one that can cause health problems and even kill.
According to the neuropsychologist Jannel Phillips, PhD., there's a flood of hormones and neurochemicals dancing around in your head when you're grieving. Certain disruptions of hormones may occur which can result in symptoms such as loss of appetite, disturbed sleep, anxiety, and fatigue.
How Does the Death of a Loved One Affect You?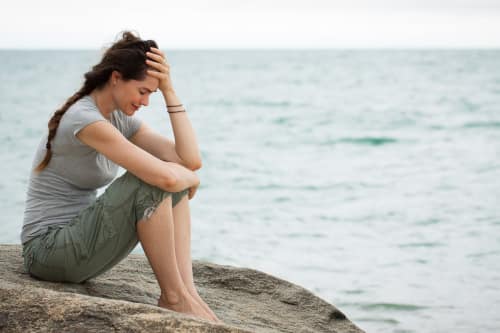 One of the hardest reasons for grieving is losing a spouse, which can be debilitating.
The death of a loved one is often a redefining moment in life. It marks the beginning of a long and painful process, but also an expected and normal one. It's normal to feel overwhelmed in the beginning by the intensity and depth of the loss.
Possible grief reactions include denial, anger, guilt, a feeling of powerlessness, hypersensitivity, numbness, etc. Overall, the death of a loved one affects the person on every level, mentally, emotionally, and physically.
In such cases, you may want to help, but it can be hard to know what to do or say.
How to Comfort a Grieving Widow?
To help a grieving widow, show up with some edibles or meals, especially if she has children or grandchildren in the house to feed. You can also help them by cleaning their house or weeding their garden. Don't ask her if she needs help. Instead, suggest to her how you can help her.
Also, don't avoid talking about her dead husband. On the contrary, point out the happy memories you have of him. Let the widow cry and say that you're sorry and that you miss him too. Invite her to lunch, coffee, or movie, and offer to take her children out for the day.
Do not say things like "Everything happens for a reason," "It was his time," "I know how you feel," "Time heals all wounds," "This too shall pass," "You must be strong," It was God's will," "Things could be worse," "You'll marry again someday," "God needed him more than you," "You will meet someone else soon," "You're still young," "What happened?" "Life goes on," "Don't cry," etc.
If you want to write a letter for a grieving widow, start by saying that you're very sorry for her loss. Offer kind words about her husband like "he was a man of great heart. His advice and stories have changed the way I see the world."
Then, express your sadness by writing that you're deeply saddened by the passing of him, and offer a special memory and support. Tell her that you are here for her in this demanding time. Sign off with words of condolence such as "Thinking of you," or "My heart goes out to you."
What Is Disenfranchised Grief?
Grief isn't only debilitating when it comes to losing a spouse. For many people, it's when they lose a pet, friend, home, a place of residence, miscarried pregnancy, or any other loss that's not acknowledged by society. This form of grief is called disenfranchised grief and it's real.
As you can see, grief is not always obvious. Sometimes, people can grieve silently, so how to know when someone is grieving? Psychology Today states the signs of incomplete grief, including anger, irritability, continued missing/obsessing of the other, fear of loss, overreaction, self-harming behaviors, numbness, apathy, or low-grade depression.
How to Comfort a Grieving Friend?
If you want to comfort a grieving friend, don't hold back and just reach out. Tell them that you care for them and express sympathy.
Pay attention to how they react to your actions and words, and change the subject if you see that it's hard for them to talk about it. Just find your way to tell them that you're there for them.
It can be by hugging them, holding their hand when they cry, baking some cookies for them, making meals for them, and most importantly, listening to them. Don't be afraid to acknowledge how hard it is, and offer to connect them to another person that's going through a similar experience, suggests Time.
If you're the one who's grieving, you should learn to cope with your loss so that you can bounce back. According to Huffington Post, the first step is to acknowledge and accept your feelings.
Then, you should find something positive to fill up this gap and learn to grow from the loss. Focus on the positive things in your life so that you can replace the negative feelings. This can help you feel liberated and move forward without anything holding you back. Let the experience teach you how to be emotionally stable and evaluate your life and faith.
It is extreme grief characterized by longing for the lost one to the point that it affects their life, relationships, and employment, explains Care Search.
What Is Ambiguous Grief?
Ambiguous grief, on the other hand, is grieving about someone or something that leaves you searching for answers.
So, you can grieve even for someone that's alive, such as a family member in a cognitive decline due to dementia, a disappearance of a friend or family member, or someone you love that's psychologically not the same person.
Psychology Today explains acute grief as an intense and painful state of grieving, which is transient, leading to healthier outcomes. Usually, it's the feelings we have right after the loss, and we don't want it to linger.
What Is Bargaining in Grief?
It is the third stage of grief, and it's known as false hope. It happens when we try to negotiate anything to avoid the grief by asking "What if" questions, says Psycom.
The bottom line is, no one likes the idea of grieving, but sometimes it's just inevitable. So, the more we know about it, the better we can cope with loss.